Top Ten Questions To Ask Your Electrical Contractor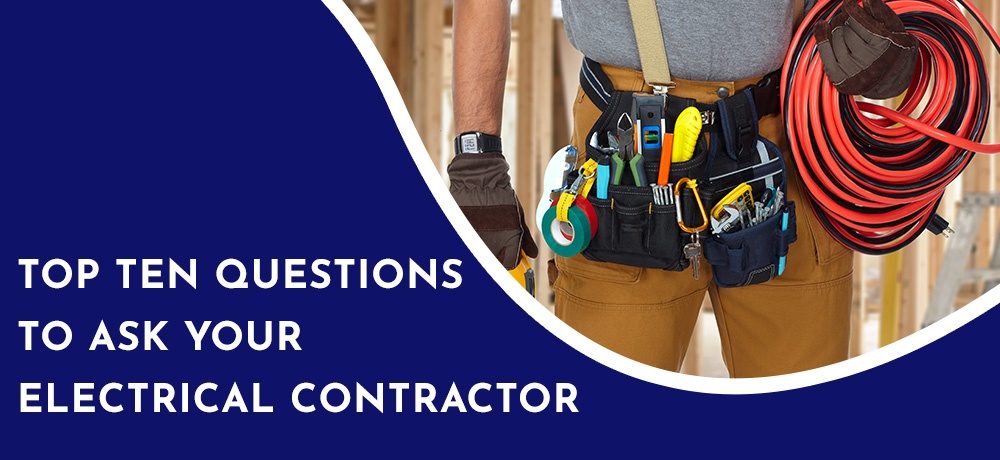 If you're looking to enlist the services of an electrical contractor to help assess and meet all the electrical needs of your project, it's essential to pick a reputed company that offers exceptional service, delivers quality work and guarantees customer satisfaction and safety.
However, if you haven't worked with an electrical contractor in the past, you may not know where to start when it comes to choosing the right one to install, maintain, and repair electrical products for your residential and commercial needs. To make the whole process easier for you, we've outlined ten valuable questions to ask potential electrical contractors.
During your initial consultation, consider asking these questions to learn more about the company and find out whether they are competent enough to fulfill your expectations and the right fit for your property.
1. Are you licensed?
A licensed electrical contractor will follow all the rules and regulations related to safety measures and ensure quality work. Look for an electrical contractor that has a valid license to operate in your area.
2. Are you insured?
If an accident or mishap occurs while work is going on in your property, an insured electrician will be able to cover the costs and even reimburse you in case of any damage to your property. You will not have to worry about bearing out-of-pocket expenses.
3. What are your credentials?
An electrician that has the necessary certifications and credentials will make sure that high work standards and quality are maintained. Moreover, a qualified electrician will keep themselves up to date with the latest rules and regulations.
4. What type of services do you specialize in?
If you're looking for an electrical contractor for a house project, then you should hire one who specializes in electrical repairs, wiring, lighting, safety inspections, etc. Alternatively, if you want an electrician to help fulfill your commercial electrical needs, then find someone who is skilled in electrical preventative maintenance programs, machine and equipment wiring, electrical distribution systems, power quality testing, and investigation, etc.
5. Who will be performing the actual work?
While checking the qualifications and background of the company is essential, it is equally important to learn about the team that will be carrying out the work at your property.
What are their qualifications and experience? How many electricians will be present at the site? Will there be a supervisor present? Ask them these questions before finalizing a contract.
6. Will a permit be required? If so, what is the cost?
Ask them if you are required to apply for a permit before they begin the work, especially for large projects. If you need to apply for one, then ask them about details such as costs, other requirements, etc.
7. What does the estimate include? 
Many people make the mistake of not asking their electrical contractors about the estimated fees and are shocked when they're handed the bill. Before signing a contract, it's essential to ask your prospective electrician about the estimate and what it includes as well as if there are any hidden or additional costs.
8. Will a written contract be provided?
A written contract outlines the job expectations for the electrician, protects both parties if those expectations aren't met, and also locks in the price that will be paid once the project is completed. Written contracts are necessary, especially for commercial projects.
9. What is the warranty and guarantee for work performed?
Find an electrical contractor that offers strong warranty and guarantees policies. These policies will ensure that any defective products are replaced or fixed, and they will also cover the service call charges and labor costs for any repairs.
10. Will it be an issue for me to see the work in progress?
If your electrical contractor lets you observe the work in progress whenever you wish to, then that's someone you want to hold on to. It suggests that they are transparent and open about their methods of work.
As trusted electrical contractors in Brampton, ON, we exceed expectations and deliver a full line of high-quality electrical services for residential, commercial, and industrial projects. We assess our clients' needs meticulously and offer customized solutions that complement their requirements. We are proud of providing prompt customer service and ensuring clientele satisfaction at all times.
Our services are extended to Oakville, Georgetown, Etobicoke, North York, Lawrence Park, Forest Hill, and Kleinburg, Ontario.
Want to get started by hiring licensed and insured electrical contractors in Brampton, ON? Then reach out to Trigon Electrical Inc. to take advantage of our services and fulfill all your electrical needs. Or, click here to learn more about the services we provide.